Welcome to the Manic Mosh webshop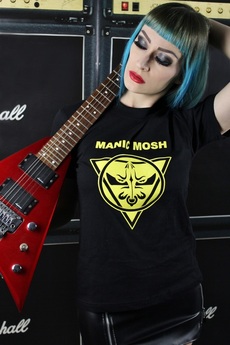 THE Manic Mosh Tee
Proper, old-school screen print on quality, 100% cotton t-shirts
This is the first tee from the Manic Mosh catalogue.

BLACK BOX FIT TEE with thick and rubbery yellow screen print plus
woven, Manic Mosh skull logo on sleeve
available in sizes: XS, S, M, L


HAND-PRINTED IN LONDON!





Manic Mosh follows the tradition of screen tee printing how it was done in the 80's. and we're doing it all over again here and now!
Female cut 'spaghetti strap' shirts and baseball shirts in the works aswell!


(photo left: Model Nea Dune, photo by Manic Mosh)
---
---
MANIC MOSH PRODUCTS:



MANIC MOSH METAL Magazine #01 / 2017
£ 4.00 (UK) / £ 6.50 (Europe) / £ 7.50 (World) All prices include Airmail / 1st class shipping!

28 pages A4, full colour print on satin paper. Packed with Metal goodness, including interviews with Savage Master, Chastain, Hellripper, Split Heaven, Chalice, Demon's Bell, Power From Hell, Whipstriker, Assassin and Witchslayer. Plus, over 100 album / demo / vinyl reviews, a label / distro / zine / radio-station / management directory, an 80's Metal special, plus some hot rockin' Models. 28 full colour A4 pages printed on 130 gr satin paper. Thrash Metal, Death Metal, Speed Metal, Melodic Metal, Black Metal, NWOBHM, Power Metal, Traditional Metal.... all in here.


MANIC MOSH METAL magazine #01 / 2017
28 pages A4, full colour print on satin paper
£ 4.00 / UK
£ 6.50 / Europe
£ 7.50 / World
PRICES INCLUDE MAGAZINE AND AIRMAIL / 1st CLASS SHIPPING!
select destination from dropdown menu
---
MANIC MOSH BLACK BOXFIT TEE, YELLOW PRINT
MEN'S / WOMEN'S
£15.00
INCLUDING FREE AIRMAIL POSTAGE WORLDWIDE!
Exact Size measurements:
large: pit to pit: 56 cm / top collar to bottom: 65 cm
medium: pit to pit: 53 cm / top collar to bottom: 65 cm
small: pit to pit: 50 cm / top collar to bottom: 60 cm
x-small: pit to pit: 44 cm / top collar to bottom: 56 cm




DELIVERY INFORMATION for MANIC MOSH items: We aim to send out all orders within three working days

---